RUSSIANS TOO – FED UP WITH CONSUMERISM
28. september 2016
---
VIDEO (in English):  At the Musuem of Fine Arts in Petrozavodsk, Russia, Natalia Kozlovskaya, Head of Development Dept., challenges the commercial offers on the city's market for leisure.
"People are tired of watching movies, eating popcorn and just consuming. They want to do something with their hands", she says in this video.
Turning the museum into an activity center, Natalia Kozlovskaya not only meets with the audience's requests but also takes the opportunity to highligt important issues as ecology and the need for lees consumption. This autumn by offering lessons in how to make clothing from wool. Beginning at the very spinning of a thread.
The lessons are poetically called The Thread of Happiness refering to an old Russian tradition.
"It's a global trend among ordinary people to combine leisure with education, culture and activities that touch your soul", Natalia Kozlovskaya says.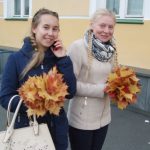 Young Russians having collected fallen leaves for pleasure and decoration – another Russian tradition.