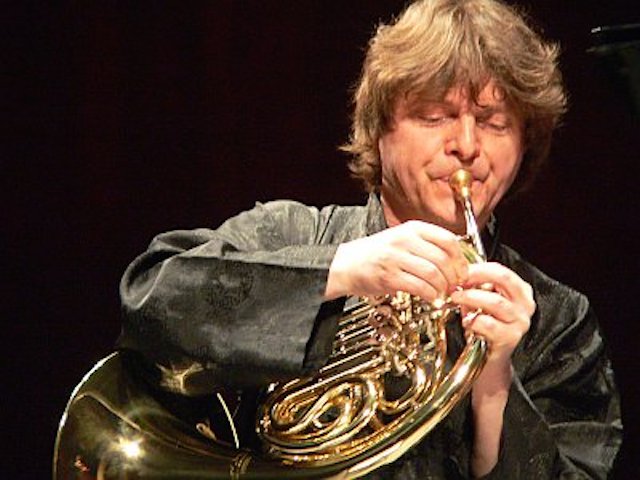 OWNER OF A LONELY HORN
12. oktober 2016
---
YES. Imagine the music of the British rock band Yes. Only this time performed by a Wald horn backed by a philharmonic orchestra. Perhaps you have to go all the way to Russia to find such an idea.
By MIKKEL SCHOU
So, that's what TVflux did. Last night in Petrozavodsk, Karelia, the National Philharmonic had a "Tribute to YES" on the programme.
Arkady Schikloper, the composer himself, or re-inventor of the YES songs if you like, was also this evening's soloist, playing both the French and the flugelhorn. (Watch him playing jazz alpenhorn).
Yes and no. There were eight YES-songs on the programme. During the first seven, TVflux recognised only a few phrases from the original songs. Nevertheless, it was like watching a James Bond movie with your eyes closed. And yes, there is slightly good film music and there is superb music.
This evening the entire wild 007-action and intense, dramatic love scenes could have been accompanied by the music of the father of film music: Morricone in a 2016 anno Domini edition.
Arkady Schikloper is an equilibrist on whatever horn he chooses. With a slightly touch of overtones and jazz sounds, he took the instruments out of the classical world.
No and YES. As a grand finale Arkady Schikloper choose to play the only really big (and commercial) YES-hit: Owner of a lonely heart, which is also the title of a recording by Arkady Schikloper playing with a, as far as TVflux's Russian could get, Siberian Philharmonic.
YES, Arkady Schikloper did not only reconstruct the last song this evening, the whole composition was opened like the blooming of a flower. And, mind you, brought to a higher level of harmonic beauty engaging the whole orchestra (and an electric bass) but with a rhythmic touch that made the whole building and TVflux shake.
Unlike most European countries, the Russians have a tradition of bringing their children to the theatre and concerts. After the concert TVflux managed to have a few words with two teenage girls (who were not brought by their parents!) about the concert. They were both thrilled by the concert and would go straight home and search for YES music on the Internet.
Arkady Schikloper was born in Moscow in 1956 and started playing the horn at the age of 6. He now lives in Germany and is known as one of the best jazz performers on French horn and alphorn in the world.
Tonight's event was a double concert. It would not be fair not to mention the other soloist, Vjacheslav Lebedeb, in Mozart's concerto No 2 for French horn and orchestra, not to mention the great Karelian State Philharmonic. But that is another story, yes.
Foto: Портал Джаз.Ру